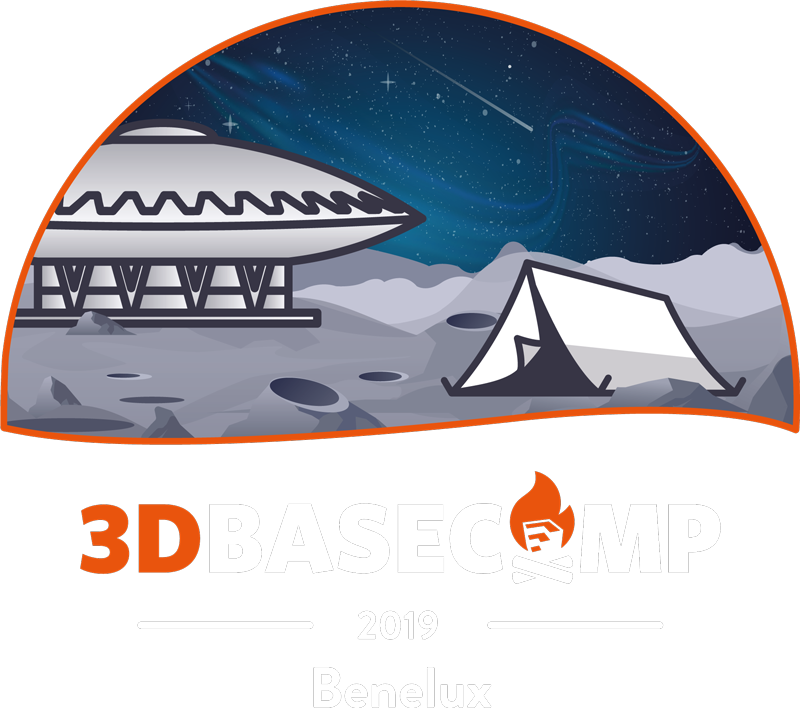 The Best of SketchUp and More!
This year on December 12 and 13 there will be another 3D Basecamp Benelux for all SketchUp users and 3D fanatics. Come to the Evoluon in Eindhoven (NL) and have your best 3D experience ever with exciting keynotes and workshops.
Please note: because of the international speakers and workshop hosts, the official language of this event will be English!
On Thursday December 12 you can follow various types of workshops about SketchUp Pro and related workflows and Extensions! You can choose from 13 different workshops, such as SketchUp, Layout, (Open)BIM, Trimble Connect, V-Ray and Virtual Reality.
On Thursday night there will be the biggest SketchUp Pro Café so far! With a few short presentations, Sketchionary, Oracles and a lot of sharing and learning with fellow users and the experts present.
Friday December 13 is a day full of interesting lectures by experts from various industries! You can find inspiration with speakers from Trimble, VolkerWessels, Dutch Police and Kubity.
On both days you will find an information market in the central dome with various providers of additional services and technologies regarding SketchUp Pro.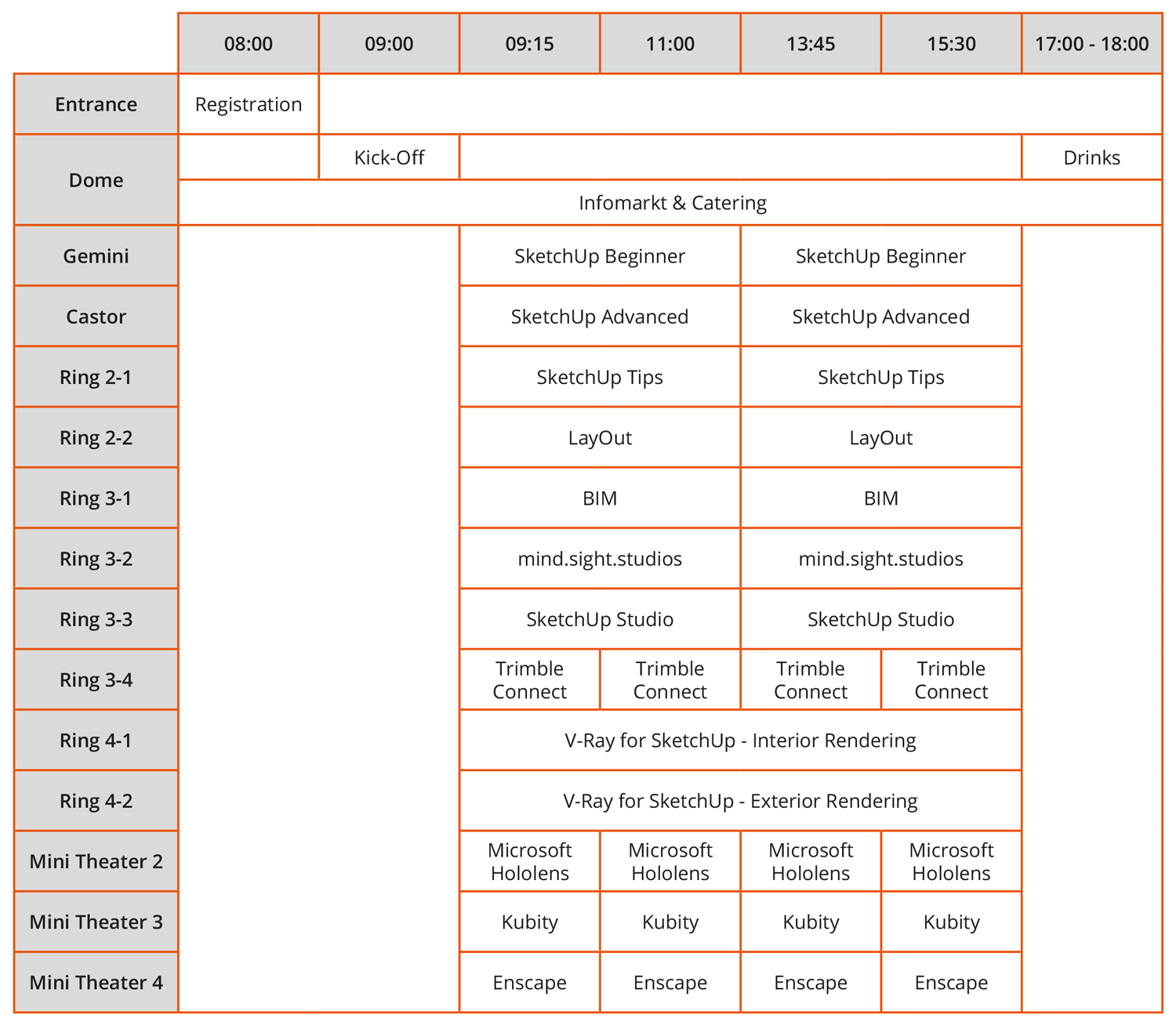 During day 1 - workshops the coffee breaks take place between 10:45-11:30 and 15:00-15:45 (max. 20 minutes per workshop).
Lunch break is between 12:30-13:45.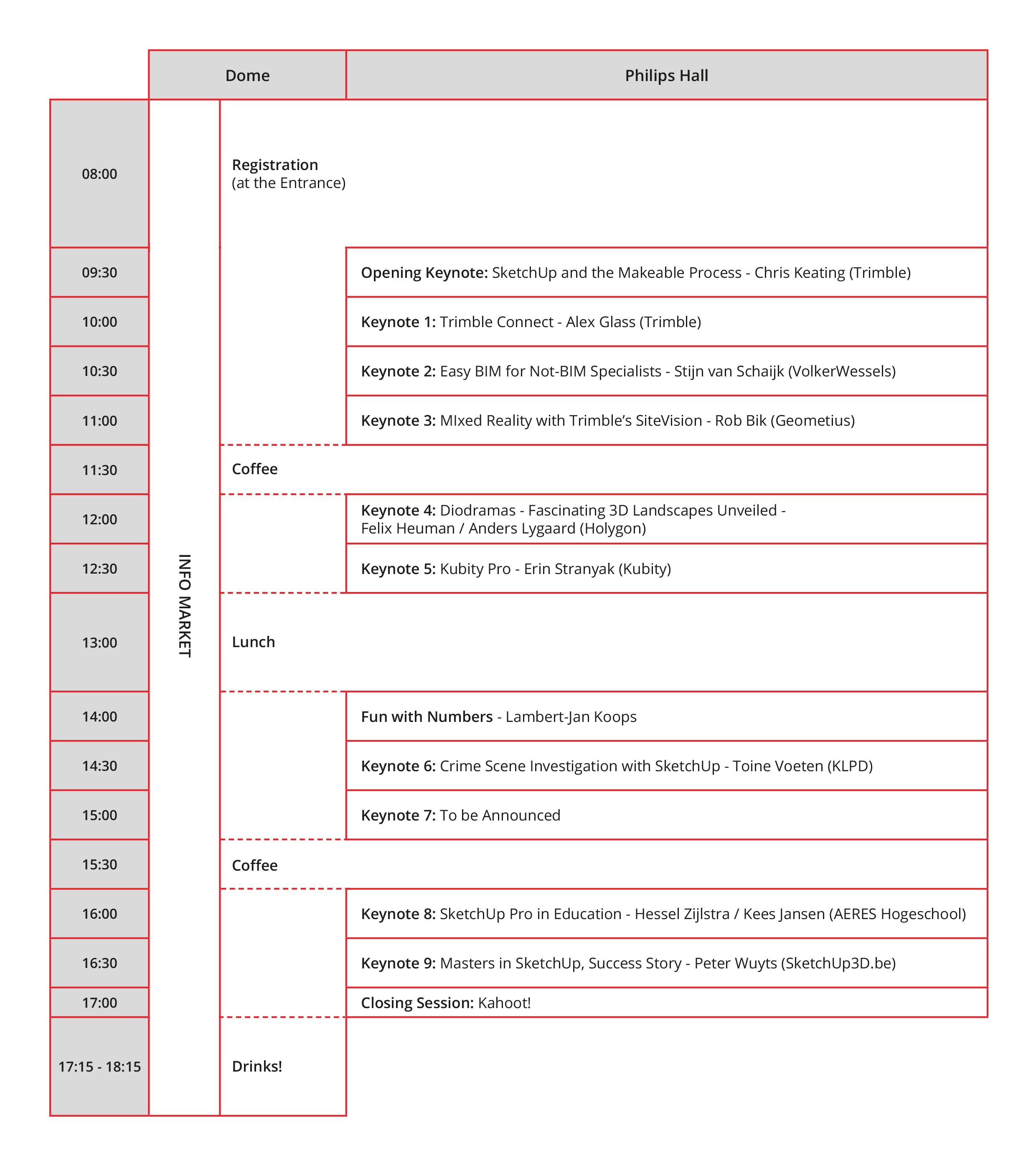 Workshops
(Open)BIM with SketchUp Pro
Nick Nijmeijer & Gerben Pol
ITCAD & Eurosafe Solutions
The SketchUp Pro BIM basic workshop is for those who want to learn how SketchUp Pro
can be applied with the (Open)BIM working methodology. This workshop is given by Nick
Nijmeijer from ITCAD in collaboration with Gerben Pol from Eurosafe Solutions. Together
they will teach you how to structurally and efficiently share information from a 3D BIM model
with SketchUp Pro. After completing this workshop, you know how to apply SketchUp Pro
with the BIM working methodology and you are able to share information in a uniform manner.
Workshops
LayOut
Matthijs Kraan & Mark van der Neut
Freyr Architects
Easily create 2D views and floor plans of your model and present them on scale. In
addition to sketch designs and mood boards, you can now also supply technical
drawings that are not only functional but also visually attractive. Our architectural
firm (Freyr Architects) has extensive experience with LayOut and is happy to share all the
tips, tricks and pitfalls to achieve a beautiful presentation. You will also see that LayOut
can be used without SketchUp to give shape to other things such as business cards
and flyers. Perhaps too much to cover in a workshop, but in any case we will provide an
excellent basis for working with LayOut.
Workshops
Trimble Connect
Stijn van Schaijk
VolkerWessels
Discover powerful use cases with Trimble Connect and SketchUp. We show several
powerful use cases of Trimble Connect in combination with SketchUp: Discover how to
combine different data formats and share all this information with clients, learn to look at
project data on your mobile device, explore how you connect documents to 3D models,
and many many more.
Workshops
SketchUp Basics
Suzanne Smits & Kees Veth
VMV cad-adviseurs bv
The ideal workshop for the beginner in SketchUp Pro. Learn what you need to know
when you start using SketchUp Pro. Not only will you be introduced to the basic
drawing functions, but you will also learn the importance of building your model properly.
This is where it often goes wrong in practice. The SketchUp tools often have hidden tricks,
or extra functions in combination with other keys.
Workshops
SketchUp Advanced
Daniel Brown & Marian van Olst
SketchUpTrainer.com & SketchUpPlaza
This is the workshop for the intermediate user of SketchUp Pro, because you will get more
out of SketchUp Pro with this advanced workshop. Both Daniel and Marian are SketchUp
users from the first hour and know how to teach you the advanced techniques hidden in
SketchUp Pro.
Workshops
SketchUp Tips & Tricks
Peter Wuyts & Lorenzo Resseler
See3D.be / Masters in SketchUp
This is the workshop to learn how to work more efficiently and effectively with SketchUp.
You might have seen Peter on Social Media with at least 1 SketchUp Pro tip per day!
During this workshop Peter and Lorenzo will show you (also hidden) tips and tricks in
SketchUp Pro to work faster and get difficult design tasks done!
Workshops
Mind.Sight.Studios
Jack de Moel & Maarten Pontier
Design8 bv & SketchUpExpert.com
Profile Builder, PlaceMaker and Skimp; these are the must-have Extensions for every
die-hard SketchUpper. Jack and Maarten will learn you the ins and outs of parametric
modelling of building solutions, building cities based on geo-location with a few clicks
and simplifying complex objects for working faster with SketchUp Pro.
Workshops
SketchUp Studio
Alex Glass & Lukas Lagerweij
Trimble Inc. & Design8 bv
SketchUp Studio includes all the features of SketchUp Pro, plus real time energy
performance analysis tools for efficient buildings. Alex and Lukas will teach you how
to design better buildings.You will learn how your design ideas will affect energy use,
daylighting, thermal comfort and HVAC.
Workshops
V-Ray Interior
Martha Dijkstra & Nicoline van der Henst
Design8 bv & EnyaCAD bv
The only Chaos Group Authorized Trainer in the Netherlands, Martha Dijkstra, and interior
specialist Nicoline van der Henst will take you into the world of interior rendering. You
will learn the basics of V-Ray Next for SketchUp and how to apply this to interior scenes.
Learn what's the best lighting, how to use materials and much, much more!
Workshops
V-Ray Exterior
Ivan Kozaliev
Chaos Group
Ivan Kozaliev, one of Chaos Group's CG specialists, developed a solid background in
architecture, participating in various building design projects up to high-rise buildings and
skyscrapers. Therefore he will be your man learning you how to make astonishing exterior
renders with V-Ray Next for SketchUp.
Workshops
Microsoft Hololens
Jos Obbink
Construsoft
Jos is marketeer at Construsoft, supplier and developer of several Trimble software like
SketchUp Pro and has over 4 years experience with the Hololens now. This head-mounted
display makes it possible to experience 3D models as a hologram. Jos will tell you more
about the technique, the developments and you will get the chance to experience the
Hololens yourself!
Workshops
Kubity Pro
Erin Stranyak
Kubity
Virtual Reality and Augmented Reality in one user-friendly application! Erin will show you
how you can present your 3D SketchUp designs on mobile phone, tablet and screen to
your customer. All in an interactive way! Step into the world of VR with a cardboard goggle,
overlay your design in a real world situation or give a remote presentation on a screen
that's not even in your own office!
Workshops
Enscape
To Be Announced
Enscape GmbH
Easy-to-use real-time rendering and Virtual Reality with one click right within SketchUp!
During this workshop you will learn how to lift your presentations to a higher level and
make faster design iterations and decisions because you can experience every geometry
change directly in Virtual Reality!
On Thursday evening, we will be organising the largest SketchUp Pro Café so far: the SketchUp Pro Grand Café! The Grand Café is a party to learn: while enjoying a snack and a drink, you will come into contact with fellow users and industry experts to share experiences, ideas, tips and tricks with each other.
In spite of the fact that the SketchUp Pro Grand Café is an informal gathering, we have of course established a program for the evening:
2 Short informative Keynote presentations
SketchUp Oracles for all your questions
A game of Sketchionary for the fanatic SketchUppers
Drinks and exchange experiences, ideas, tips and tricks
So come to the SketchUp Pro Grand Café and party to learn!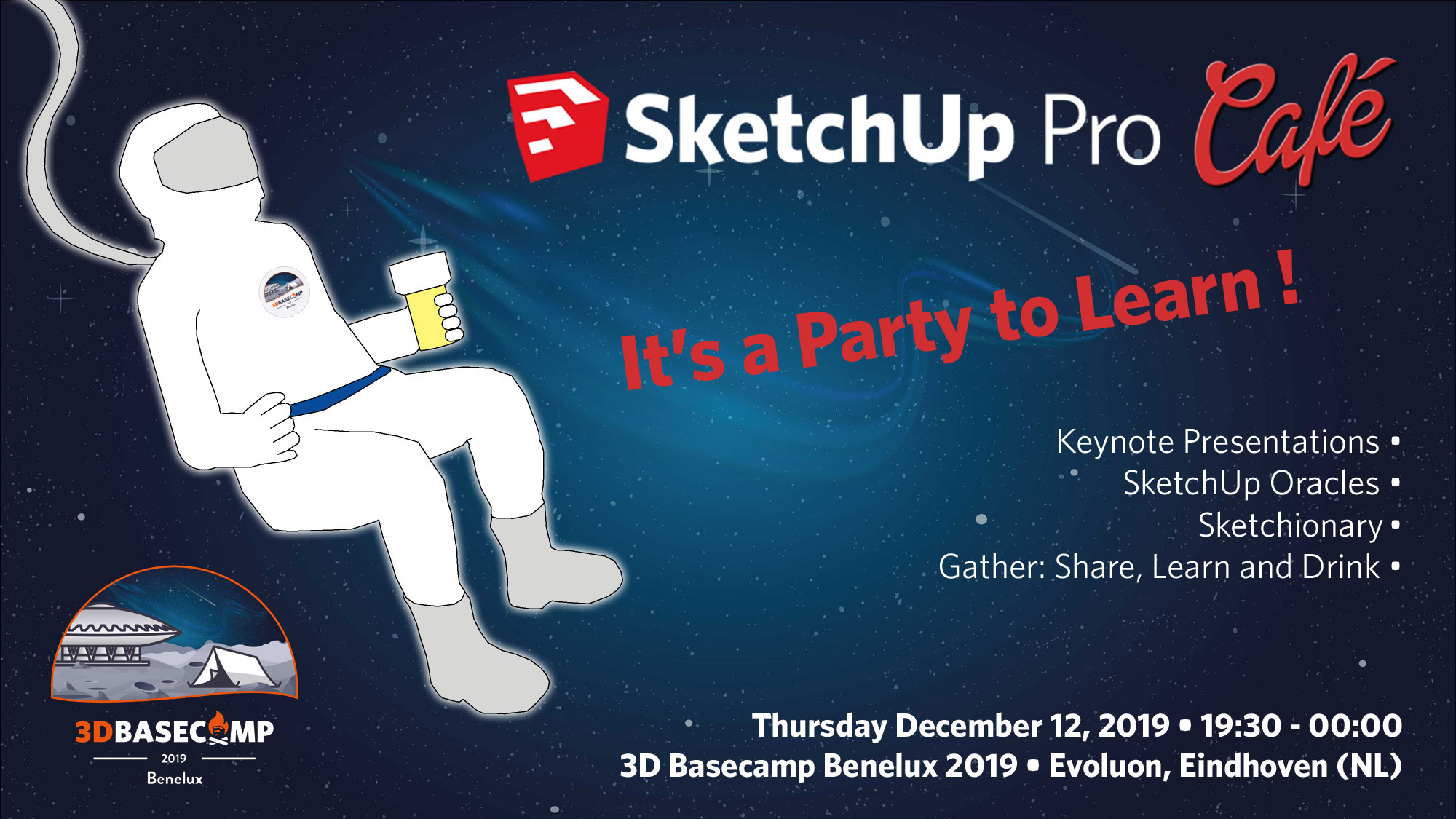 The Evoluon is one of the most iconic buildings in the Netherlands. The 'concrete ufo' was built by Philips in the '60's as a permanent exhibition space and has become a multifunctional venue for events, congresses and meetings in the years after. Frits Philips's (Philips president from 1961 to 1971 and initiator of the Evoluon) goal with Evoluon fits the idea of the 3D Basecamp: "It would be great if the Evoluon became a place where people share and exchange their knowledge, experience, enthusiasm and inspiration in a way that pays off on multiple fronts."